IF YOU PLAY GUITAR & OFTEN
think to yourself
"I WISH I COULD PLAY BETTER"
I know how you feel.
More than likely you are...
Sick and tired of not being able to break through to the next level

Not sure what to practice and end up playing the same things over and over again

Someone who has been playing for years with little to no improvement

Practicing for hours with nothing to show for it
I have dealt with all of these problem before and I see them time and time again. The good new is...
YOU CAN BRING ME your worst GUITAR PLAYING PROBLEMs AND I BET YOU I CAN HELP YOU FIX THEM
If you would like to:
Learn how to get better every time you touch your guitar

Eliminate every single frustration you have

Turn your practice time into a well oiled machine that constantly pumps out results

Learn how to avoid getting into ruts before they even happen

Finally play the guitar they way you have been wanting to...
...the page you are reading now is going to help.
My name is Dylan Andrews and I am a professional musician, coach, teacher and mentor. I specialize in helping guitar players who have been stuck at their current level break through their issues quick.
The first thing you need to know in order to getting to that next level is...
TALENT DOES NOT CREATE
GREAT GUITAR PLAYERS
There is a huge misconception that someone must have a lot of natural talent in order to become a great guitar player.
This is far from the truth.
It is not the "talented" guitar players that reach their goals. It is the ones who know how to practice correctly and who practice consistently.
It all comes down to knowing what and how to practice. The problem is most people are missing one or both of these!
But it doesn't have to be that way.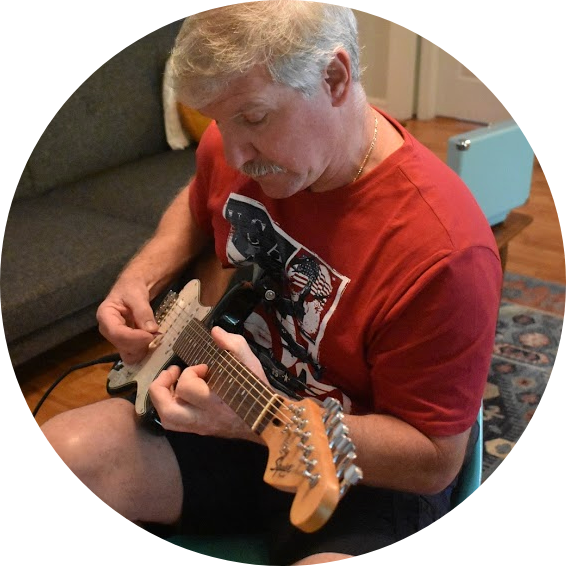 Like many, I have been playing for years (since 1975) and never took a professional lesson. After considering all of my options, I contacted Dylan Andrews because of his high ratings and good reviews. I was very impressed with Dylan at our initial consultation because he was interested in "my goals". Since then I am astonished at how far I have come. Now, I am doing things on the guitar that I never thought possible. Be prepared to SHOCK your family and friends as you play at a family gatherings, or on the front porch. Sure wish I did this 40 years ago.

-Mike M.
92% of guitar teachers have no training on how to teach guitar. Just like any profession, teaching guitar is something that needs to be studied and practiced in order to do it correctly. Because of this lack of training, guitar teachers use ineffective and outdated teaching methods that will waste your time and your money! In order to become a highly effective teacher these skills must be trained and practiced for years.
To make sure I give the best guitar lessons possible, I am apart of a program called the Elite Guitar Teachers Inner Circle.
Here is what that means for you:
Every year I shell out thousands of dollars to upgrade my teaching skills, get ongoing guitar teacher training and learn from the top guitar teachers from over 50 countries, so I can stay...
ON THE VERY CUTTING EDGE OF TAKING
GUITAR PLAYERS TO THE NEXT LEVEL IN RECORD TIME
I decided long ago to focus on helping my students get results in the quickest, most efficient way possible.
I have spent years studying and training the best methods so my students can become great players quick, and I continue to do so!
That being said, If you are looking for "the best price" guitar lessons then I am not the teacher for you.
Cheap guitar lessons will save you money on the front end but you will always end up overpaying with time and frustration.
I know firsthand because I took "cheap" guitar lessons years ago and it got me nowhere. The lessons were never prepared in advance and there wasn't a clear plan to get me where I wanted to go.
When I become a teacher, I knew I wanted to do things differently.
I'm looking for guitar students who want to get what they pay for and get it fast. And guitar students come to me do so, because they want...
A GUITAR TEACHER WHO TAKES HIS CRAFT AS

SERIOUSLY AS DOCTORS

do
If that is what you are looking for , then tell me more about your self by clicking the button below.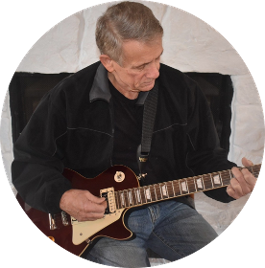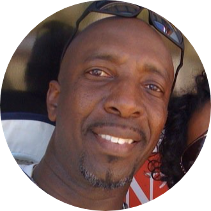 "Taking lessons from Summit School of Guitar is one of the best decisions I've ever made. I really appreciate Dylan's teaching methods and his incredible skills as a guitarist. Being new at the instrument I wasn't sure how I would do in an online "classroom", with other students at different levels of playing ability, but Dylan has a unique way of pulling it all together so that we all jam together at the end of a given lesson. So supportive and effective. Thanks Dylan!"
- Eric M.
I am so confident that these lessons will work for you that...
If you do what i say and don't feel noticeably better within the first week...
I WILL REFUND ALL OF YOUR MONEY!
My lessons have helped hundreds of guitar players get to where they want to be. I know that as long as you follow the steps I'll lay out for you, you will be able to join this amazing group of people who have grown tremendously in their guitar playing.
And if you are still unsure about whether or not you should do this, think about what will happen if you don't.
How much longer do you want to have these issues? How long do you want to wait before you break through to the next level?
What will it mean to you to be able to play guitar the way you want?
There is no risk intrying it out. The first lesson is completely free, and you're money will be refunded if you are not satisfied within the first week of signing up.
What should you do now?
TAKE THE NEXT STEP
AND CLICK THE
BUTTON BELOW!